From Macrumors.com
Macrumors ordered a pair of these third-party iPhone 5 cases, confirming they are available for public sale and subjecting them to a series of measurements.
While accurate measurements were difficult to achieve due to open ends and overhangs on the sides of the case, we estimate the size of the phone at approximately 4.7" x 2.6". Measuring the expected thickness of the device is more challenging given uncertainty about exactly how the case snaps onto it along the sides, but the device certainly appears to be below .30" at its thickest and tapering by approximately .065" from top to bottom.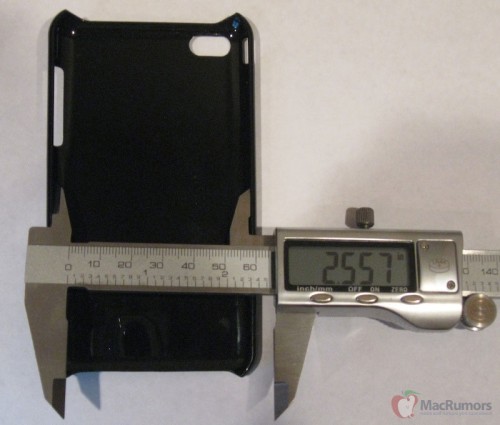 Ad:
Apple iPhone 4 16GB White Unlocked (Never Lock) Import
Screen Size at Least 4"
The iPhone 4's 3.5" screen measures approximately 1.95" in width within a total device width of 2.31", leaving approximately 0.36" for margins/bezel.
Assuming a comparable margin on the iPhone 5, the device's display would be approximately 2.24" wide, making the display approximately 4" on the diagonal. It seems unlikely that Apple would make the margins of the iPhone 5 screen larger than on the iPhone 4, so if this does represent the final case design, the iPhone 5's screen would have to be at least 4". Of course, this contradicts a
recent report
from
DigiTimes
claiming that the iPhone 5's screen would be between 3.5"-3.7".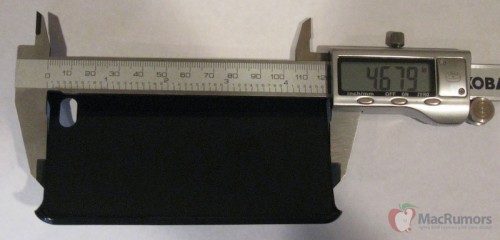 Conclusion
Unfortunately, we don't have any definitive answers. Depending on which evidence you believe, there are several possibilities.
If you believe these cases represent the final iPhone 5 design, then you also have to believe that the iPhone 5 will be much larger than the iPhone 4 and is certain to have at least a 4" screen. We still can't reconcile this data with the extrapolated dimensions from our designer that suggested a much smaller phone. Those dimensions match up more closely with the circulating rumors of a screen closer to 3.5"-3.7".
Apple is expected to reveal the iPhone 5 later this month for a possible October launch.
Ad: Rubberized Retractable Car Charger for Apple iPhone 4 (Black)